Home :: Customer Service ::



City Chef - Canada's Gourmet Online Cooking Store! Open since 2003, CityChef.ca a 100% independently owned Canadian Company began with a simple concept - to offer our customers high quality, innovative kitchenware with the added convenience of shopping right from your home or office; ultimately allowing you more time to do what you like best. With rising gas prices, the convenience of having your orders delivered right to your door is a service that will prove to be highly appreciated. We do our utmost to ensure your order goes out as quickly and safely as possible to your destination.
You can feel assured that every product we offer will exceed your expectations and share the quality workmanship and attention to detail for which our name is known. We take pride in searching products from around the globe that meet our high standards and hopefully pass some of that knowledge to you. City Chef is dedicated to providing our customers with an outstanding level of service, knowledge and assistance and are always available to help you with any questions you may have. Please feel free to Contact Us with any questions you have. Our courteous staff will be more than happy to promptly respond. Please enjoy your convenient online shopping experience at CityChef.ca.

Head Office and Warehouse located at Unit 150 - 12500 Horseshoe Way, Richmond, BC, V7A 5K2 Canada.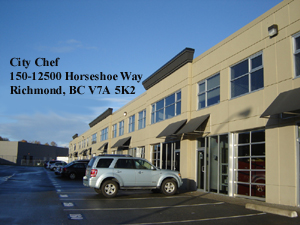 From all of us at City Chef,
Bon Appétit!

Go Back